Today's Video Wednesday brings you three (that's right, THREE) awesome videos by artists and songs you're probably already familiar with but which are fantastically awesome as videos as well. The ideas is that if there's a whole, whopping three of them, there's gotta be one that you haven't seen yet and can therefore provide entertainment. Like I said, they're all sorts of brilliant so it'd be a good idea to watch them even if you're dead sick of the songs already.
Watch:
The Pipettes-Pull Shapes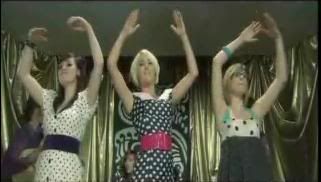 You already know
how I feel about the song
, and if you don't know yet, I'm also very much in love with lots of claps and polka dots. The Pipettes are automatically high up on my scale of artist genius. But apparently, this video is a recreation of a scene from the Valley of the Dolls,
see?
. I've never seen the Valley of the Dolls, but my friends keep recommending the book and also, I think it places on that hipster must read list from the
Hipster's Handbook
, so it's probably really awesome. Fun, fun, fun video only fitting for the Pips.
Watch:
Lily Allen-Smile
(Windows Media stream)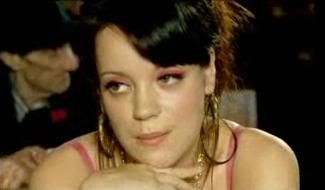 There are lots and lots of reason to adore
Lily Allen
: The utter catchy songs blending hip beats and carelessly brilliant lyrics, the driving, beach factor, the must listen to song repeatedly and then again, a few more times factor, but I think w hat really pulls it all together, what really makes Lily such a heroic new pop star is her attitude. I mean, she really has it, that no one else matters total laid back, confident, super likable attitude. It's reflected in almost every song, and every picture, and every interview and Myspace blog. So, this video pretty much just wraps everything up. Involving everything you could possibly ever want in a music video: beating people up, destroying people's homes, dumping pills in drinks, and absolutely brilliant make up in the cafe scene. Seriously.
Watch:
Nelly Furtado-Maneater
(WM stream, or
YouTube
, or use
this to download
...thanks, as always
Antville
!)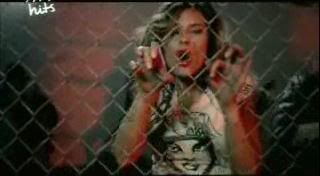 The beginning of this video is really amazing. The set up, the scene, the tension, it's all so brilliant and executed with all levels of perfection. But then, I'm not sure if the video keeps that up all the way through. For example, the JAMMINZZZ WALLPAPERZ 4 UR CELL CALL NOW type dancing in front of fake flames thing is such a unhappy distraction to the mood of the video. I mean, I love that dark, wild, dangerous and sexy theme but don't go ruining it with trashy gimmicks...I think I got too distracted by things like that, although I liked the trashing against fenced wire and steamy hands on windows thing. And the ending, of course. "Cute".