You Gave Me a Tune to Sing
Published Wednesday, May 17, 2006 by Laura |
E-mail this post


---
Watch:
The Concretes-On the Radio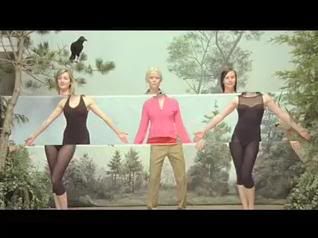 Are you terribly sick of indie pop bands with catchy, stuck in head, pleasant melodies and about a thousand band members with cutsey everything and music videos with spring, pastel color schemes and undeniable stop motion and effects and general wonderfulness that begs repeated watching despite its seemingly typical appearance at first?
If you are, this is not for you. But for
most
the rest of us, there is this lovely, delightful video by the
The Concretes
(who also have this OMG look at how cute and detailed and precious it is must visit visit visit website). The random appearance of the line of graceful and matching dancers, the band members, tilted by gravity, spinning as if in a snow globe, or just generally dancing and making naturally flowing, sweet, wave like rolling movements, and the last second, that super cute cannot stand it anymore ending with the footprints. It really turns what was originally a quite good indie pop song into a rather great one. And it's definitely not "just another video".