SBIG--Closing the Goddamned Door
Published Monday, February 20, 2006 by Laura |
E-mail this post


---
Watch:
Panic! At the Disco--I Write Sins Not Tragedies
(mov)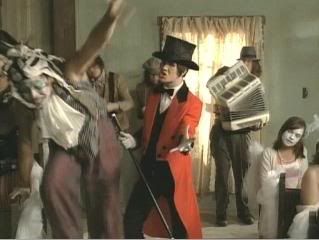 In case you haven't already heard, Panic! At the Disco is the new Fall Out Boy. Or My Chemical Romance. Or The Used. Or whatever. It's only natural that Panic! At the Disco would want to establish their new xscenexcredx by producing a music video making fun of their peers, as well as slightly more subtle digs at Kelly Clarkson and elaborate costumes and bad make-up in general. Now, the question of whether they're ripping off Pink with her pointed fingers at "Stupid Girls" or whether satire is the new originality, only time (and wasted effort) will answer.
Panic is of course another perfect rendition of this whole whiny emo pop punk vocals with cute doe eyed white boys being morbid and clever with polished produced catchy hooks ect ect. trend thing. There is no way to judge whether they're for better or for worst--I mean, even the semidancableness of the songs by all of these bands are similar! I do know that the video is filled with drama and pretty images, contrasting ideas and people, a wedding, fake dead people, people dancing in fake ballroom style ala "Helena" from My Chemical Romance, clowns, smudged and cheap horror film style powdered white faces and red powdered lips...and a general sense of pop chaos.
And yeah, the story is not exactly the basic broken hearted emo story but where "the groom's bride is a whore", and yeah, it's the sort of get stuck in your head melody that you love to hate, but with a high enough dose of self aware irony and sarcasm, Panic! At the Disco pulls it off to a level where you can laugh at it, singalong to it with your hipster veil pulled tight, and maybe realize what exactly it is about these bands that every teenage boy and girl across the country is loving so much--and manage not to hate the band, or yourself, for involuntarily liking it. Even with that strong sense of irony...
So, we kick off the official "So Bad It's Good" week and more to come.